Why Bathroom Mirror Cabinets are so much in demand!
Given a bathroom the most convenience, mirror cabinet has become one of the best-selling bathroom necessities, since in a bathroom, adequate storage and a functional mirror are needed, this component combines these applications turning out to be one of the handiest fixtures people can have in their bathrooms. They are not only useful, but also making a great decoration to the bathroom.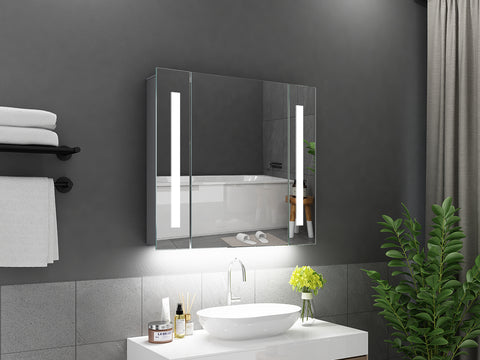 Things to Consider While Choosing a Mirror Cabinet
First, thinking about how big the bathroom is. Perhaps it should go without saying, but smaller spaces typically call for smaller mirrors or furniture units. For smaller bathrooms, a slimline mirror cabinet is frequently the ideal option.
Slimline bathroom mirror cabinets provide your bath space a smooth, modern appearance that, depending on the style, may work with both classic and modern designs. If this is high on your list of objectives, be sure to look at mirror bathroom cabinets that provide additional features.
The size of the bathroom mirror cabinet may well be determined by the layout and size of your bathroom, but having enough storage is typically always a good idea if you have the room. When the mirrored cabinet is to be wall mounted, make sure it isn't too broad or too close to a wall or shower screen, in case these conditions might prevent the doors from opening.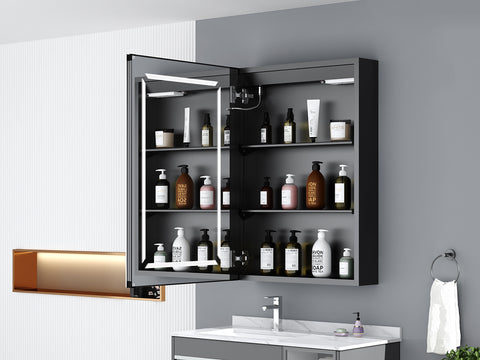 Illuminated Mirror Cabinets
A bathroom mirror cabinet shall fill the area with the perfect amount of brightness and create the appearance that it is larger since mirrors reflect light. However, an additional light source is almost always necessary in bathrooms, so many of our mirrored bathroom cabinets also come with built-in lights.
The illuminated bathroom mirrors must be installed by a licensed electrician, but it is unquestionably worthwhile to have all that really useful light right where it is most needed. Some units also come with helpful downlights that illuminate the sink area under the mirror cabinet.
It's crucial to remember that cabinets with lighting or shaver plugs must be placed close to a power supply. The majority of our bathroom mirror cabinets will need to be connected to your main supply, therefore you will need an electrician's assistance. Please verify that your supply can give the 240V that our bathroom cabinets need in order to operate at their peak efficiency to prevent dissatisfaction. Always call a professional if you're not clear about any electrical circuit problems!
a) Infra-Red Sensors orTouch Sensor Switch
The infra-red feature is a motion sensor that enables the users to operate the item without touching it since the motion sensor devices sense the instruction from the user and enables the item's function automatically.
The heated pads are a great invention as they heated up the mirror slightly so that moisture that settles onto the surface of the mirror evaporates thus allowing no steam to cover the mirror.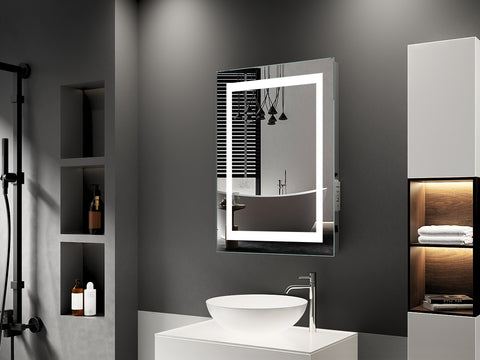 A mirror cabinet may cover most of the stuff that we use in the bathroom and is useful for spaces that lack storage or for privacy protection. It also provides a clean and modern appearance.
It provides the symmetry in the area by visually balancing a row of washroom furnishings beneath. To create a harmonious interior design, you may integrate the cabinet finish with the materials used throughout the space.
In one word, they offer storage, aesthetics, functionality or the best of both worlds!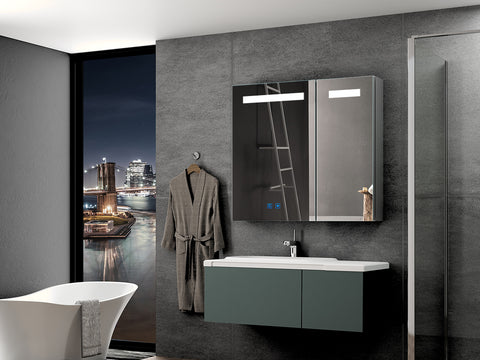 Quavikey's mirror cabinets were made to maximize your storage and enhance the space in your bathrooms, using a mirror with internal storage space is a terrific method to effortlessly access your bathroom basics, toiletries, cosmetics, and skincare products. What's more, when you share your bathroom with someone else, a mirror cabinet will come in quite handy. Mirror cabinets at Quavikey are made with love and by premium materials to guarantee their sturdiness and lifespan, all our illuminated mirrors are IPP4 rated, allowing you to use them safely for years to come.
Leave a comment